Twenty Years as an IT Provider for the Financial Sector
FINAMIS Anniversary
FINAMIS was built step by step from a single branch in Bratislava, which had programmed financial software for an Austrian IT company, to become an independent developer with a specialized product catalog and a portfolio of clients in four different EU countries. Leading banks and financial companies are among the company's clients on the Czech and Slovak markets. These successes led to the company's acquisition by Czech ARBES Technologies, a.s., which has added FINAMIS to its group. Cooperation on the transformation of the FINAMIS core product began immediately, turning it into the flagship product of the entire group – now provided under the name ARBES AMS.
History and a Strategic Partnership.
FINAMS has been developing and delivering software to investment banking company clientele for two decades and since 2005 to the leasing segment as well. Since its founding under the name ex-it Slovakia, the company has gone through many transformations, changing its name and owner in the process. Ambitious international IT projects were paramount for building expertise and a good company name. The Brokerjet project for the ERSTE Group was one such venture, as was the company's participation on the implementation of a B2B Xetra portal for Wiener Börse AG. The ownership structure changed in 2010, which also resulted in the company changing its name to FINAMIS. This opened the door for expanding the company know-how and brought cooperation with clients of various types – banks, security traders, management and investment companies, pension management companies. 2018 was another milestone year, when ARBES Technologies, a.s. became FINAMIS' majority shareholder. The CEO of ARBES Technologies, Michal Houštecký, explains the goal of this acquisition: "This cooperation represents the strongest team we've ever had, comprising more than 100 experts for the delivery of top-quality solutions and a concentration of business expertise on Czech and Slovak financial markets." Today, the group services more than 30 significant clients in 5 countries and employees 100 experts for capital markets and investment banking.
The development of applications for the leasing segment represents the company's second pillar. This is a flexible group that works independently within the programming team. The development of leasing applications and their support on the client-side has been in place since 2005.
FINAMIS' success story, the ability to bring innovative products, first-class cooperation and satisfied clients guarantee a positive outlook in terms of growth and stability in the future. "We have always tried to build equal, long-term and rewarding business partnerships. In celebration of our 20-year anniversary, we would like to thank all our colleagues for their hard work and all our clients for their continued loyalty and trust," adds Vladimír Karásek, Managing Partner and CEO of FINAMIS.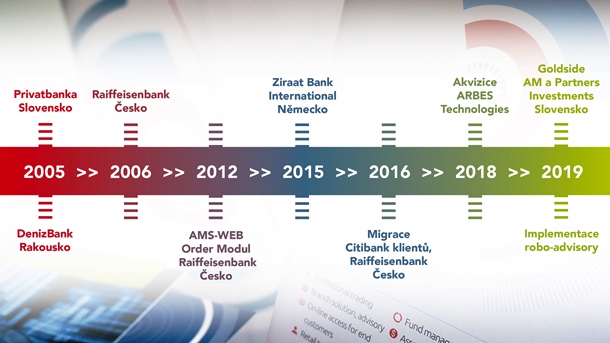 all-news