Assets administration via web
AMS-WEB® is a modern software product designated for investment banking which was developed in accordance with current technological trend. It provides banker, financial advisors as well as final clients with online access to information on portfolios, investment products. It enables administration of assets and place investment orders online.

Information available for user
Actual and historical asset values including analysis of capital employed
Portfolio analysis with asset allocation by countries, branches and currencies including fund-in-fund drill down
Absolute and relative performance calculation including benchmark comparison and many additional key performance indicators
Representation of all historical transactions based on security, money market and foreign exchange transactions
Representation of all historical account transaction including details
Consolidation of several portfolios (e.g. of all family members)
Credit and loan contract information including account balances and historical interest rates
Representation of all transaction volumes, total number of managed portfolios, list of accounts, accumulative turnower
Customer valuation
"The onboarding process in the delivered system gives us the opportunity to effectively gain clients and cover their requests for investment financial services. Our team enjoys the advantage of having FINAMIS as a supplier and IT partner all throughout production when our technical support requests are taken care of as needed using a flexible approach."
Maroš Ovčarik
Director of PARTNER INVESTMENTS, o.c.p., a.s., 2020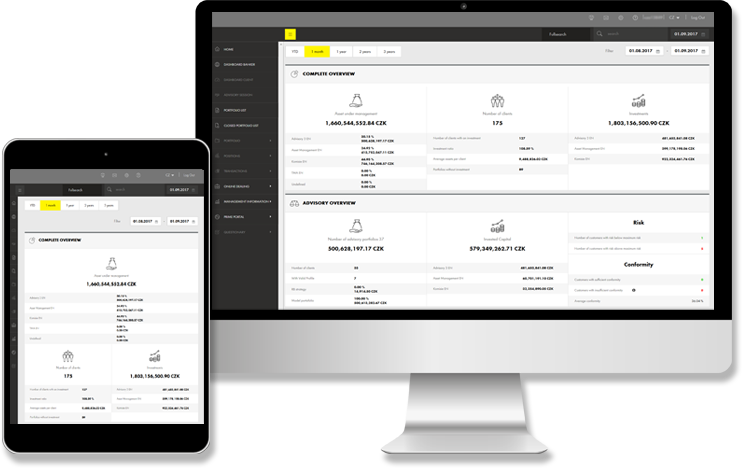 Functionality and Properties
Complex portfolio analysis
Integrated risk management
Order management
Conform GUI integration to clients Corporate Identity environment
One button export to Excel or PDF
Individual customized reporting
24/7 access to portfolios
Responsible design for tablets and smart phones
Presentation mode - allows compatibility with third-party systems via interfaces
Scalable modular architecture allows to serve large FSIs as well as smaller ones
Suitable for companies /depatrments with different services (private banking dept., investment, fund or asset management companies, brokerage firms)
Main Modules
Portfolio Information
Portfolio Information provides a clear overview of assets, asset performance, including various additional key performance indicators, historical transactions, capitalized income value analysis, country-, currency- and branch allocation analysis. Full, extensive and comprehensive information not only for your security portfolio
Management Information
for your distribution channel partner business or outsourced portfolio management business the AMS-WEB Management Information provides unlimited hierarchical consolidation levels which represents detailed information for each level and special customized order functionality (integrated with AMS-WEB Order Management)
Risk manager
check and evaluate with the taken risk of a portfolio via Value-at-Risk calculation. Drill down each portfolio position in the value-at-risk calculation and analyze the proportional risk. Define and run simulations to analyze possible market scenarios or portfolio optimization impacts
Order Management
orders can be placed during the customer investment advice meeting or automatic via collective orders for effective portfolio rebalancing. The order settlement is guaranteed based on position and investment profile checks and represented in an clear and comprehensive open order position overview
Report Generator
provides off line report generation for any information provided by AMS-WEB Portfolio Analyzer. All reports are saved and updated with current information. This guarantees quick retrieval in preparation for your next customer meeting, and allows simplify and automate regular reporting
Demo AMS-WEB®
Get to know AMS-WEB through the DEMO version. We revalue more than 1 000 sample investment portfolios at market prices. We track and display a number of parameters, such as portfolio performance, limits set, risk levels, asset value to invested capital comparison and other interesting attributes. The date as of which the composition and value of the assets managed are displayed is available to show the historical performance of the portfolio. The demo presentation is available in Slovak, English and German.


Individual Demo AMS-WEB®account
The public version is currently undergoing a makeover. We are preparing brand new 2nd generation graphics, which we provide to institutional clients in its commercial version. Despite the temporary limitations, we can offer you an individual demo account where you can get familiar with the application, configure the look of the site and select your preferred language. Simply send a registration email and you'll immediately get personalized access to the current version of AMS_WEB DEMO.
Address: office(at)finamis.com
Subject: Individual user
Please include the following information in your message:
Your first and last name:
valid email address:
company name:
additional comments or requests
What is AMS-WEB: Broker used for?
It is functionally based on AMS-WEB® application. Moreover, it supports active trading in real time. through a direct interconnection to a financial portal, it is able to react really flexible to investment possibilities, without any need to contact bank workers. The application core provides a complex administration of investment portfolios such as registering, reporting, and fees.
AMS-WEB:Broker offers synergy to operators as well as final clients.
Rising the competitiveness of the operator
Simple integration with existing systems of the third parties
Access of clients from various types of final devices (PC, tablet, smart phone)
Scale distribution – selection for beginning investors, full functionality for those who trade intensively
| | | |
| --- | --- | --- |
| | AMS-WEB© | AMS-WEB:Broker |
| Placing orders | | |
| Near a real time quotation/price from markets | | |
| Management, administration support, charging of providing near and real time prices based on the contract with final clients | | |
| Minimalization of application response, scale, load balancing in accordance with number of users trading in parallel | | |
| Orders overview | | |
| Real time interface for investment accounts | | |
| Direct connection to trading system of stock exchange or through a partner in the role of broker | | |
| Integration with financial portal | | |
Reference

Raiffeisenbank a.s., ČR - financial portal

FINAMIS has developed and implemented for Raiffeisenbank, a.s. a portal solution with automatized interconnection for registered clients to trading.


Financial portal is implemented in cooperation with salesXp GmbH Vienna and with a product Prime Portal.
Implemented solution
* RBroker is a trade name used for AMS-WEB: Broker by a specific client